Private Guided Walking Trips, Private Guided Walking Tours in the Beautiful Valencian Countryside.
The beauty and diversity of the Valencian countryside provides endless possibilities for some superb guided walking.    The terrain includes remote high mountain country with sharp limestone ridges, vast open rolling hills, deep river valleys and stunning coastal routes.  We have a wide range of private guided trips, designed to cater for all abilities and tastes.  The emphasis is placed firmly on enjoyment and safety.
Before selecting a guided walking trip, we firstly ensure that the needs and ability of the individual or group is established.  We do that by listening to you and by using our local knowledge to provide a memorable and enjoyable trip. The safety of our clients is our key priority.  This is why we apply a maximum group size 8 people for our guided tours.  Children are welcome provided that they are accompanied by a parent or guardian.  Packed lunches are available on request.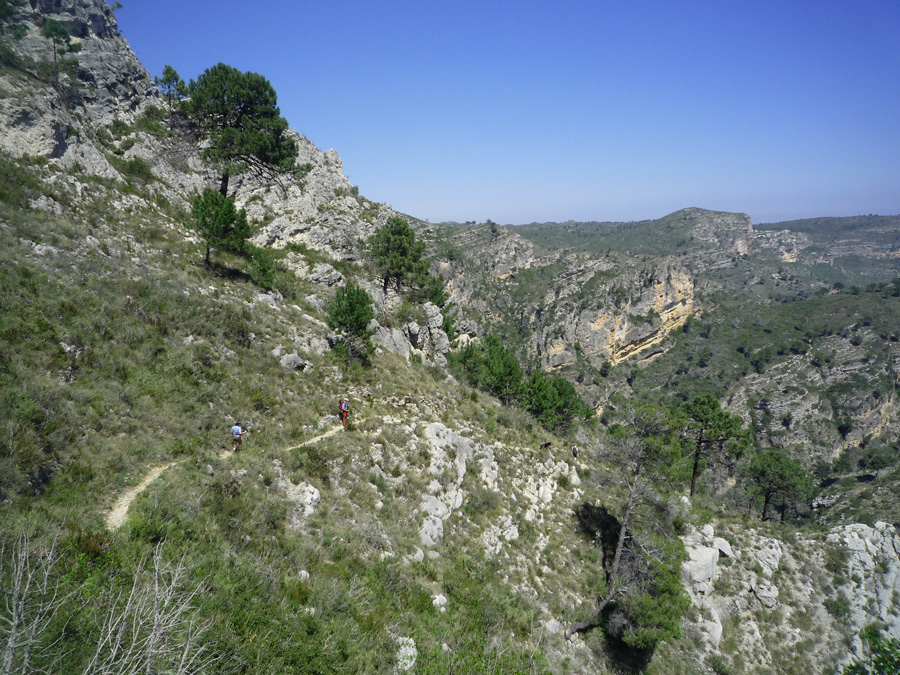 Why choose a guided walking tour?
The benefits of a guided walking tour are many, and include :-
* Specialist local knowledge of the best walking routes and trails.  Even for those experienced in map reading, it becomes quickly apparent that Spanish maps are not the World´s best!  By choosing a guided trip, you can make the absolute best use of your time and will visit places that otherwise would remain undiscovered!
* The tour leader will be licenced Guide and will have considerable local knowledge.  Escape routes and contingency plans are built into each route.  Safety Systems exist to ensure that all risks are controlled and minimised.  Health & Safety is taken seriously and procedures are fully explained prior to the start of the trip.  Last but by no means least, the Guide will be professionally trained and qualified in Wilderness First Aid.
* Simply put, choosing a Guided Walking Tour allows you to simply enjoy the walking without having to worry about where you´re going or what to do if anything goes wrong!
If you have any questions please feel free to contact us.  We´re happy to discuss your needs, without obligation.